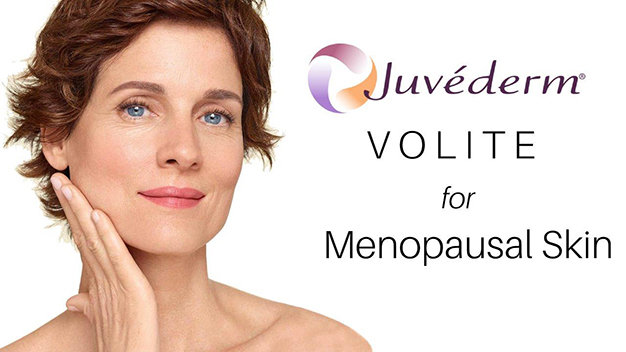 Menopause can be a challenging chapter in a woman's life; however it can be made easier with the help of Volite.
During menopause women start to find their skin become more dry and crepey. Skin lacks its natural hydration and glow.
Juvederm's Volite restores skin's hydration, radiance and youthfulness.
Volite is an injectable treatment that improves the appearance of hydration. It contains cross-linked Hylauronic Acid. Hylauronic acid is naturally produced in your body however it slows down as we age. Hylauronic acid improves the plumpness of the skin without adding extensive volume by promoting collagen growth.
Collagen production in women slowly declines from the age of 25 until menopause, when it then plummets to almost nothing as oestrogen levels trail off.
When injected into the deep dermal tissue; Volite produces collagen, elastin, and also attracts water into the cells. This in turn improves skin's elasticity and firmness.
Tiny micro injections of Volite are made throughout the desired area. The effects of Volite are immediate and continue to improve, with optimal results being seen within the first month. Volite can last up to 9 months and can be repeated when needed.
Give your skin back the moisture it needs, and get Volite today!
Visit Lasting Looks Clinic for more information.