Fraxel Restore… Results you can see and feel®.
Smoother, tighter, a more even skin tone and texture …
Softening of deep frown lines …
Improved appearance of redness caused by sun damage …
All with the safety you'd expect from a Fraxel laser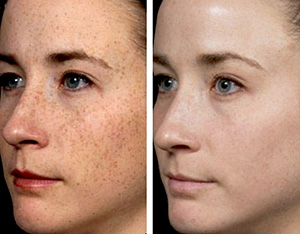 Fraxel Re:pair™ treatment is a revolutionary new way to correct aged and damaged skin – without the prolonged downtime or adverse reactions of other resurfacing procedures.
Never before has there been such an effective, non-surgical, non-invasive way to tighten the skin and remove years from your appearance!
Fraxel Re:pair™ treatment uses points of light to precisely treat thousands of microscopic areas of your skin. The treatment penetrates deep into the skin to
remove old, damaged skin cells, as well as stimulates your body's own natural healing process, and replaces the cells with fresh, glowing and healthy skin
Fraxel Re:pair™ treatment treats the following
Wrinkles
Acne Scars
Skin Resurfacing
Irregular texture
Sun spots and age spots (pigmented lesions)
Sun-induced redness (vascular dyschromia)
Commonly Asked Questions
Q: What is Fraxel?
Fraxel treatments use fractional laser technology, i.e., technology that exposes a controlled fraction of the skin to the laser, to treat a broad range of skin damage, such as age spots, sun spots, wrinkles and other signs of aging. Depending on patient needs, Fraxel treatment can treat minor skin damage, help prevent the signs of aging, resurface moderately damaged skin or correct severe skin damage. Fraxel treatments can be either ablative (i.e., injure the skin in a controlled way by vaporizing the top skin layers) or non-ablative.
Q: How does it work?
Fraxel treatment uses patented fractional technology to target damaged skin with microscopic laser columns that penetrate deep into the skin. The laser treats only a fraction of the skin tissue at a time, leaving the surrounding tissue intact, which promotes rapid healing. This stimulates your body's own natural healing process, replacing the old and damaged cells with fresh, glowing, healthy skin.
Q: How many treatments will I need?
With Fraxel Repair, clinical studies suggest that for most people, maximum results are realized in just one treatment session.
The Fraxel Re:pair™ treatment was specifically engineered to enable Dr. Ellis to tailor the treatment to your particular needs. If you have deep, severe sun damage, Dr.Ellis may treat the skin more aggressively, which can mean up to a week of social downtime.
A more gentle treatment with less downtime is also available for those with mild sun and skin damage. No matter what your situation, Fraxel Repair™ treatment can achieve
remarkable results without the prolonged recovery time.
Q: What side effects can I expect after treatment?
Immediately following treatment, you will have some degree of redness and swelling. Other temporary side effects may include minor itching, dry skin, peeling or flaking, and a bronzed skin appearance.
Dr. Ellis will give you specific instructions about what to expect for your particular treatment and how to minimize side effects. These effects may vary in intensity and duration depending on your skin's healing characteristics and the aggressiveness of your treatment.
Q: What will I look like immediately after the procedure? Can I go right back to work?
Depending on the aggressiveness of the treatment, you may experience redness or swelling after the procedure that diminishes as quickly as the next day or over the next several days. More aggressive treatments, such as ablative procedures with Fraxel Repair, require more downtime. Dr. Ellis will work with you to determine the best option within your lifestyle and work constraints.
Q: Does it hurt?
Most patients describe an increased sensation of heat during the treatment. Dr. Ellis may recommend additional medications, which you can discuss during your consultation.
Q: Who performs the procedure?
Our Fraxel procedures are performed by Dr. David Ellis. He has extensive experience with the device, and has performed hundreds of Fraxel procedures with excellent results. For your safety, he will personally operate the device throughout the procedure.
Q: Can I get a Fraxel treatment if I already had other procedures?
Fraxel procedures generally are compatible with most other cosmetic procedures, such as dermal fillers, Thermage, or Botox. As part of your consultation with Dr Ellis you will discuss any past procedures and how they may affect your Fraxel treatment.
Q: Is Fraxel safe?
There is extensive research showing the safety of Fraxel treatments when performed by a physician with appropriate laser training. As with any laser procedure there is always some risk of complications, which Dr. Ellis will discuss with you during your consultation.
Fraxel Repair ™ treatment is a one-of-a-kind skin solution that enables you to look as good as you feel.
Dramatically improve your skin today – while fending off surgery tomorrow.